This morning was the first day of hunting for a new Saturday breakfast place seeing as Plum is under new management and the breakfast experience is not so good any more.
First stop was Bambalina's on Dixon Street – purely because they have orange decor. And my it was orange! As the Mister & Dan said – I had my orange grin on there!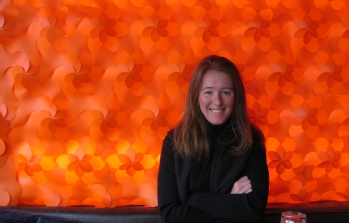 Had the usual toast and coffee – there were pluses and minuses.


Coffee was Supreme – bit milky for our liking, far too hot, eventually I found mine drinkable but the Mister left his.

Toast – good thick slices. Asked for white bread but got grain. Butter was spreadable – YAAY, they had peanut butter – YAAY but it was rock hard.

Bacon & eggs – the Mister's eggs were not fried both sides like he asked and he left just about all his bacon because it was just a big pile of fatty not very well cooked meat.
So not sure that we'll go back but it had to be done. It kind of felt like we were in Levin or somewhere, not in the middle of the city. Only 2 staff – one doing coffee and orders and the other cooking. They seemed to cope OK dealing with the full house of 5 tables and a window bench although the English was pretty broken.
On another orange note, my new blog-friend from Chicago has told me about a cool cafe in Maine – Orange Cat Cafe – I might be getting a t-shirt from there! V. v. excited!!