Tried the next new cafe on the list on Saturday morning trying to find our new regular spot – Caffee Italiano on Cuba St (strange website – last time I went there the content was all pushed down the page with a huge blank space at the top. And it doesn't tell you much about the cafe).
Anyway – they had TWO gorgeous orange coffee machines.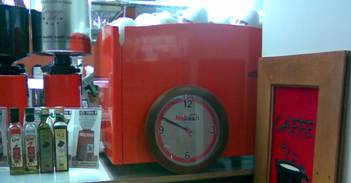 Not much else going for it though. It was more of an Italian foodstuffs deli (although not like any deli or cafe I went to in Italy) and they offer a very 'Italian' breakfast (although again NOT like any Italian breakfast we had in Italy). The only thing remotely edible for my palette at that time of the day was croissants with Nutella, although they did offer jam when I asked them to hold the Nutella. Otherwise it was ciabatta with parmesan and proscuitto and stuff like that. No butter in sight. Coffee was OK – not the worst we've had but definitely that 'grey' flavour I associate with Illy which I think is because it's tinned imported and pod stuff.
We might go back there for supplies, however can get most of the stuff at Moore Wilsons, but not for breakfast. The Mayor was there. Lots of people came in, realised what was on offer for breakfast and left. Bloody staid Kiwis!