Hello from 34,000 feet! (well, that's where I am right now thanks to the Mister's Mac …). We're on our way back to Wellington after taking in the malls of Auckland, catching up with family and driving around a few of our old haunts (for those of you that don't know, we lived in Auckland for about a year back in 2002). A few bits and pieces from this trip:


There's a number 2 Fuel at the airport! The old cart from Hunter Street is now parked up on the Qantas side of the airport.


Flipping through the Qantas magazine I noticed a large number of watch ads and it seems to be that the female models and sports stars luring you to buy a particular brand don't actually wear the watch – they just stick the chest out in the background. With the males advertising watches, it is all about the wrist and they're all wearing the watches. We had seats in front of a couple of kids who were old enough not to cry all the way and it was quite amusing listening to their exclamations – the little girl put on her head phones and said in what she thought was a perfectly reasonable inside voice "THE RADIO'S REAL LOUD" (man she was sssshhhhhh'd viciously by her mother but I knew just how she felt having received the same shushing from the Mister on a recent flight!) And then they all asked each other if they had SICK bags … not that they thought they would need them but just in case the plane made them SPEW they might need a SICK BAG. God, I was feeling nauseous just listening to them and we were still on the ground!



When you have to drive a teeny non-European car around a city and on motorways you realise just how safe you are in a European car with doors that have a solid thunk when you shut them and 17 inches of rubber on the road. And yet again I embarrassed the Mister – this time because I took this photo while the car was parked outside Repco and it just so happened to be at about 5.30pm on a Friday when all the South Auckland boy racers were thundering up to get shiny bits for their rides.


We visited Botany Downs on Friday – not as big and glitzy as we remember (ahhh the shops and malls of Europe have spoiled us!). Whilst waiting in a cafe for lunch I realised what a lovely Mister I have when I observed that he was lining up to order the coffee and sandwiches in a line of all women and kids – it was a day when we'd normally be at work I suppose so felt a little out of place.



Breakfasted in Ponsonby on Saturday – yep it's still the domain of European car owners who proudly display their keys on cafe tables and gay men who don't like a lot of fluff on their lattes. A stunning day with a definite endless Auckland sky.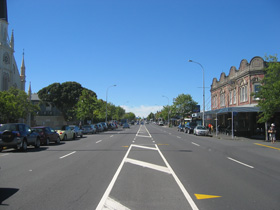 Visited Sylvia Park which is a new mall complex – absolutely massive with a huge Christmas Tree, 3 of the big supermarkets in it and a Warehouse that has groceries and fresh produce! I was flummoxed to see that they have signs up all around the acres of car parking advising of a 3 hour limit (unless you're at the cinema) – it would take about 3 hours to walk around the place let alone stop and shop so what's the point of a 3 hour limit – don't they want people to stay and spend money?


Auckland feels a bit like what I imagine LA does. The air was really warm and all the locals seem really LA-ish – bronzed in shorts and little tops with great big shiny handbags and shoes. That night at the Viaduct Harbour we figured out that the local uniform was guys in loafers, jeans and an untucked short-sleeved shirt (usually striped), and women in a short, patterned, halter-neck dress with strappy sandals and an under-arm handbag – whether the short dress suited the or not. Yeeesh. So the Mister in a long-sleeved shirt, and me in jeans and a shirt and jacket felt very out of place. Again. We went to Portofino for dinner where we used to go often when we lived up there and I have to say it was a bit disappointing. It still amazes me that you can sit outside to dine without the aid of a hair tie and table cloth clips and heaters but they'd taken over the adjacent restaurant and in trying to feed what we worked out was about 400 diners they had let some of the basics slip (wrong wine 3 times, cold food etc).



Had a bit of a family gathering and met the guy recently receiving the title brother-in-law-to-be and my sister's 2 new cats. Even though they live in Auckland we were teasing them by asking them if they had their groceries helicoptered in and did the Pam's people head out their way to film those ads about bread lasting long enough to go bush and make a sandwich out of grubs and bush asparagus! The Mister and I met a foal and patted it and had lots of patting time with the 2 cats.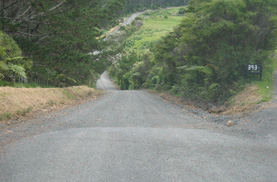 Queen Street has hi-teched up their cross walks by putting a count down on the red-man bit of the pedestrian crossing sign. Not sure if it's stopped people getting run down any less then before – probably a few dare devils that try to get across in 2 or 3 seconds but we didn't see any among the Saturday shoppers. Eeeeeeek Seedy-Santa is still standing up against Whitcoulls winking his dodgy eye at the kids and beckoning them with his big fat pink index finger. Sky Tower is still pretty impressive.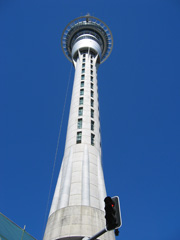 So a pretty cool weekend even if it did end by us getting off the plane on an unusually warm Wellington day and having to go straight into work until dinner time. That's Christmastime for you!