Day 2, a rainy Sunday afternoon and I'm still awake! No snow yet so we've been out on a few adventures. Some bits and pieces so far:


There was a totally lime green Air NZ plane in Wellington – like a big jelly bean with wings.


People seem to travel differently in the States – there were log jams of people in LA all waiting for stand-by flights – everything seemed to be consistently overbooked which wasn't helped by weather delays.

On our fight there was a woman with a hand bag dog and another taking a lovely puss called Lunar on the plane in an overnight bag. He'd had a couple of sips of Benadryl so was a bit dopey and didn't mind being patted.

Dulles International airport is out in the sticks.

Ran out of petrol … The Mister saved the day by running down unknown streets trying get locals to understand that he wanted the nearest petrol (a.k.a. gas) station and when he finally got there than he needed to by some 'gas' in a tin (a.k.a. can) to take back to the car.


Went to the supermarket – you can get *everything* there – all kinds of berries in the middle of winter, egg nog, many brands of peanut butter, NZ wine but ready rolled pastry was a bit of a mystery.

Went to the zoo yesterday and today on a big old family outing to the air and space museum today.


Boys watched 'the game' (why is every game on every channel (and there's lots here) that involves a ball 'the game') while the girls made Christmas mince pies with the fruit mince I smuggled here from New Zealand and home made pastry!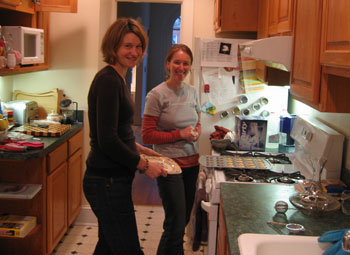 When the game's not on, the kids get a go with the TV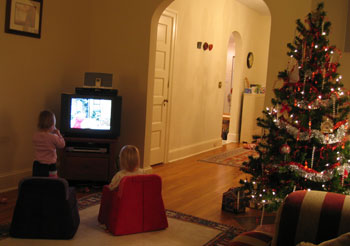 Uncle Mister is making friends niece by niece.





There's a big old scarey furnace in the wash house! No wonder poor old Kevin is scared when he's left home alone and he has to defend himself from Christmas burglars!