Well, we finally did it – we made ravioli! It was a bit tense at times as is usual in Orange Kitchen when major experiments are underway especially when we cut and peeled our little squashes from the Nikau market only to find they were green and had to make up another filling on the spot. The end result tasted really good actually but because we couldn't get the pasta dough rolled out thinly enough it was a bit like chewing through a surfboard at times! Hmmmm, we have a LONG way to go before we get anywhere near Capitol's ravioli although the buttery sauce tasted almost the same.

Pressing down the layers of dough in the hope that they don't burst during cooking.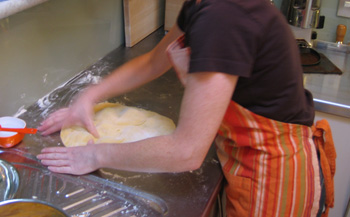 Fairly ugly and large raviolis ready to go.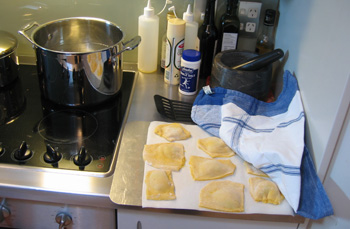 Ta da! Carrot & Pancetta Ravioli in a Burnt Butter and Sage Sauce