Finally did it today – got a sneaky picture of the wool shop goings on! It's another world in there – the lovely granny ladies in their hand knits, the one phone line that only allows EFT-pos or phone calls or faxes one at a time, the Kenny Rogers or pan flutes classics, the wide selection of wool, needles, patterns, row counters, buttons, the handmade signs and best of all the learning table.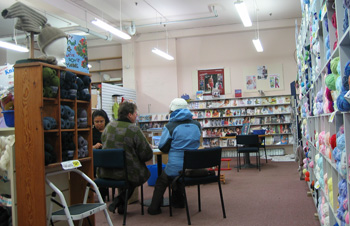 It's all set up with beginner's patterns and wool scraps and ready for the recently unemployed or released and others who don't know how to knit or need some social interaction. Today it was in full swing! I've often heard the ladies helping people out verbally – looking at their knitting or telling them about a pattern but today seated around the table was an expectant mum learning how to knit something for her baby and another woman who'd learnt to knit about a week ago and was proudly showing off her huge square of garter stitch and a woman who's English wasn't very good having the hieroglyphics in a knitting pattern translated into English at least! When the woman learning to knit was left alone in her second row so that the shop phone could be answered (lucky no EFT-pos was underway) she looked panic-stricken! I smiled knowingly at her as I patiently waited for someone to come free to process my purchase and my heart lurched – she looked so helpless – I just wanted to rush over and help her. It seems so strange to me that women my age don't know how to knit and I know how to very well – I guess it's just how you're brought up. Perhaps I should go down there and volunteer my services! For a sleepy little back alley wool shop they sure were busy and looked like they could do with another staff member.
Oh, the next knitting project is an experimental baby jacket pattern made by the wife of someone I work with who wants feedback on how was using the pattern and how the finished product turned out. Aidan is going to be the lucky recipient – and it's going to be purple.