Yesterday we got up early and took the subway way downtown and walked out through the East Village to find a little coffee shop called Ninth Street Espresso. In our New York Cafes book and in the Time Out magazine we'd read that it was the best coffee in New York and that they had nothing but 4 coffees on their menu (latte, espresso, cappuccino, drip), no tea, no food much and a sign on the counter that said "No ventis, no caramel, no decaf, no low foam, no spice, no kids, no deviating from our coffee menu" so it sounded very much like our kind of place. And MY GOD, it was worth the trek out through the Village to get a cup of their coffee. It was divine. Well, as good as coffee in Wellington, and not a shitty place in Wellington, but somewhere we'd go. The East Village was a rather different part of the city for us, not many sky scrapers, lots of people with baskets going about their market shopping and more rubbish lying around.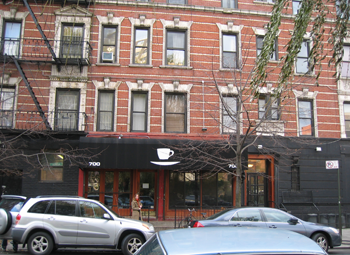 After a couple (!) of coffees we wandered down and across to Soho and had a good poke around the shops and streets there. Went back to the cafe where we got 'engaged' (celebratory coffee after getting the licence) 3 years ago (one Keith told me about many MANY years ago – it's still there and still the same!) and saw lots of clothes stores where you had to be buzzed in. Also went right down to the bottom of the island to Battery Park and around to the Skyscraper Museum which was fascinating. I loved their series of 3 huge photos of Manhattan – 1956, 1976 and 2006 and the little wooden models of the city made by a guy in Arkansas who'd never been to the city until he brought the models to the museum in June this year to donate them and had made them all by hand by studying archived photos from the museum and satellite photos.
On the way 'home' to get dinner at Morrell's wine bar around the corner we went to the movies and saw Transporter 3 which opened yesterday – great movie especially if you're Transporter fans which we are. Man that guy can drive and if I didn't love Audis already, I do now. God it was invigorating coming out of the theatre and realising were still in New York.
This morning we were up early and walked a couple of blocks across to join 3 million other people at the Thanksgiving Day parade. That's such an amazing event. We must've been 20 rows back from Broadway and I couldn't see any of the street level stuff, but the 13 or so huge balloons being floated down the street couldn't be missed. They were mostly the same balloons we saw 3 years ago but the excitement they caused when they come bobbing down the street is amazing. And the cheers for Santa were deafening – and it was mostly adults screaming and waving and calling out to him!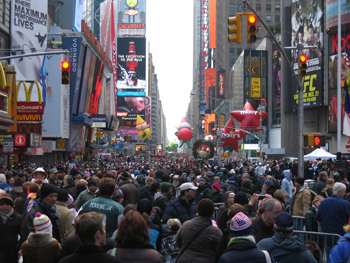 We spend he afternoon wandering through Central Park, starting higher than we have before and made our way down and across to Wholefoods to get some supplies for a homemade Thanksgiving Dinner of our own.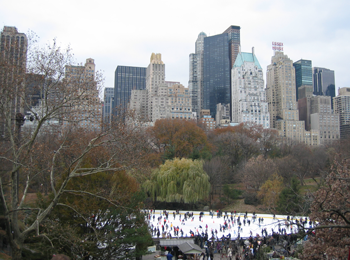 The room we have this time has no oven so we've got ready to eat stuff – got some great warm fresh bread to make turkey and cranberry relish sandwiches and then from a local deli, some New York baked cheesecake – our first this trip. We've just been to another movie – Four Christmases – gotta love those Christmas movies and this one was pretty good, and set in San Francisco which was exciting now that we've seen first hand a lot of city and bridge shots used in the film.
Early to bed tonight, big sale day tomorrow.