Still boycotting Wellington cafes on Sundays since the closing of Nikau in December last year, we've progressed through our own date scones, homemade hot cross (& variations) buns and after trying the Awakeri neighbour's homemade bread last weekend we thought we'd try making a loaf ourselves this weekend.
It rose as it should
It looked like a crusty oval loaf when baked
It looked like real bread when it was sliced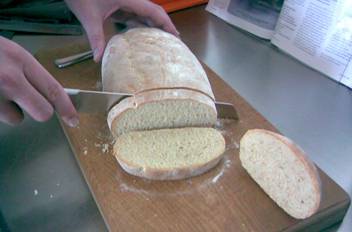 And it tasted pretty good too! Because we weren't varying the recipe at all (except for omitting the salt) there was a bit of wholemeal flour in it so it tasted a bit wholemealy for me, and perhaps a bit sweet because of the lack of salt. The texture was not as fluffy as the Vienna loaves from New World or Aro Bake's ploughman loaf – it was more like the Marlborough half-bake loaves.
Very successful effort and according to the recipe will make great toast the next day.