Random thoughts today about the passion it seems I have for orange:
Very often, completely involuntarily I smile at orange things.
When I went into the photo store today to collect some prints they recognised me, probably because all the photos were fairly orange and even though I wasn't exhibiting all that much today there must've been a glow.
People tell me they thought of me when they saw such and such orange thing.
I have a lot of orange stuff. I forget that when people see my desk for the first time. I know I've published photos similar to this before but here it is again.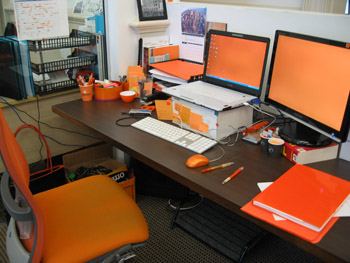 Right down to the staples.
When your stuff that people don't even see is orange, that's an addition!