You have to see it to believe it. I knew it was a diner/grill place with great plates of meat and chips with a stack of white bread and that's just what it was, a step back in time.
Again I was amazed by going somewhere different and seeing a whole other set of people, different to the people you're used to seeing – not necessarily familiar faces that you see over and over again, but as a population, they're familiar to you. The crowd at Green Parrot was totally different – mostly in their 50's I'd say, in groups of 4 or more, good hearty folks in for good hearty meals.
And what meals they were. I'd see the website beforehand but seeing the meals in the flesh (ha ha) as a sight. Huge white plates filled with piles of chips, rough cut iceberg lettuce salad, great slop of potato salad and a big piece of meat of your choice. I had a ham steak, the Mister and enormous fillet steak and Short Dark Friend had chops (on recommendation from the waitress that it was one of the smaller meals … yet it was 5 big chops!!!)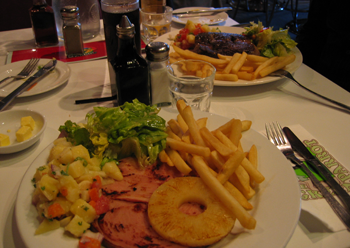 When we left to pay we saw the grill behind the counter, god there was a lot of meat on it. One steak looked like it was off a brontosaurus! The Mister said his steak was one of the best he'd had in Wellington for a while – I'm not surprised – those guy probably really know how to grill – not really any prep or other cooking methods!
All my clothes and hair smell of fry-up and I am very full.