Had a night in Auckland on our way to Awakeri for Christmas this year to see Cousin Grant who was there for a few days. Before dinner we did a little circuit around the block from our hotel to see the Sky Tower all lit up in red and green for Christmas and seedy Santa on top of Whitcoulls – although he's been spruced up for his 50th anniversary and wasn't so seedy anymore, the mechanical eye and finger gone.
Dinner was at Clooney – thanks to a recommendation on Twitter after The Mister asked if anyone knew a good place to eat in Auckland. They were fully booked when we rang but they kept our number and the day before had rung to let us know of a cancellation. The restaurant seemed in a rather out of the way place at the back of Victoria Park Market, but I suppose everyone drives everywhere in Auckland so that probably goes unnoticed and it only took us 15 minutes to walk from downtown anyway which was great. The first thing that struck me about the restaurant was the clientele – a crowd arriving via stretch limo in all their finery which made me feel rather self-conscious in my jeans, never mind my Helmut Lang top purchased at Barney's … I had every right to be there!! Anyway, once inside I realized it didn't matter – it was so damn dark! Lights really low, black string curtains around each black circular table, dimly lit staircase to the bathroom, barely any light in the bathroom – thank god I didn't need to apply lipstick or it may've ended up all over my face!
The menu is extremely flash, poncey food (as you'd expect me to say) – venison, duck, lamb with strange things, oysters, scallops, tasting plates etc but they did have a goats cheese cappalletti with baby roasted beets which I had, and it was delicious.
Everyone else had the poncey stuff and reported that it was fantastic. Cousin Grant commended us on our choice of restaurant which I thought was high praise coming from a New Yorker working in the financial scene who eats out a lot! The service was excellent and attentive and almost invisible with black clad wait staff reaching through the black string curtains around the table to deposit food or whisk away plates! The atmosphere was good too – a little quiet and exclusive when we first got there (7.30) but filled up quickly and wasn't too noisy. All tables were round and seemed to be set for 4 or more although I'm sure they'd set the edge tables for 2 if need be.
It was great to catch up with Cousin Grant again although a little weird to see him out of New York.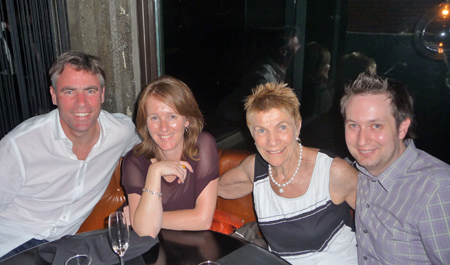 Clooney, 33 Sale Street, Freemans Bay, Auckland 1010