My first trip to the desert came and went without me melting from the heat – a great time of year to go with temperatures in the high 20′s (C) during the day and around 10 at night. The Mister was attending JSConf (the same conference that was in Portland last year that we went to) so I went along for a change of scenery.
Scottsdale is very near the much larger, well known Phoenix (where the airport is) and it was a great town/city! In the middle of the desert these towns just sprawl with patches of irrigated green.
I didn't realize I would be so excited to see a cactus growing in it's natural habitat – I practically squealed the first time I saw one. Didn't see one with the perfect 2 arms like this one: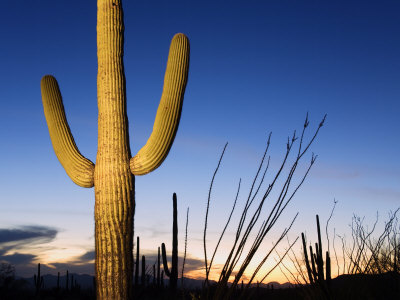 They just grow on the side of road, in traffic islands, people's front lawns and beside the canal in town – so cool!
A very chatty taxi driver told us all about them and I was fascinated!
they live for about 300 years
the 'arms' don't grow out until 75 years
they only grown in that fairly concentrated area in Arizona, and in fact they stopped about an hour out of town when we traveled north to Sedona
some of the smaller ones look very cute and soft to touch but aren't – very hard and spiky and one bit The Mister!
there's a law against molesting them (yes that's the official term) that carries a $10,000 fine – only Native American Indians are allowed to – I actually think this means cut bits off for medicinal purposes etc
Scottsdale was quite different in that no-one was around, everyone drives, no pedestrians, except us walking to town and on the way we saw no mail boxes (quite a feat to find somewhere to mail Father's birthday card), no trash cans, and a huge shopping mall with underground parking or valet so you only have to take 3 steps in the heat from the door of the car to the door of the store.
When I wasn't visiting the orange rocks in Sedona I worked in a fantastic coffee shop we found, Coffee Cartel, and beside the pool eating pineapple and strawberries. Might be worth an annual visit – only a couple of hours away by plane.