… at my new seat in the sky (level 22) I think I actually did some real work on my first day. I went to a dev meeting with my new team and took minutes (now anxiously waiting to see if they make any sense whatsoever to the PM) and updated some data in Excel using both of my 2 screens, once I got the hang of the concept having never used 2 at once before.
Either side of my 2 screens I have a rather stunning view:
To the left …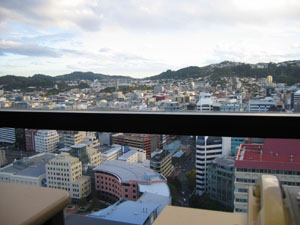 … and to the right …
No swaying yet however that didn't stop me from feeling nauseous all day in anticipation of it.
Feeling pretty shattered now. I fully expect myself to be up and running and useful in the first week seeing as I am contracting. Day 2, here I come!