What a surprise when we got to Nikau today!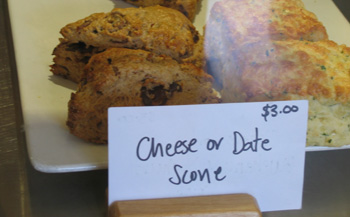 Apparently blueberry season is over so dates are back! And just in the nick of time. I'd finally given in and yesterday gone into Finc upon hearing raves from friends and seeing the big sign outside their cafe proclaiming 'best date scones in Wellington!'. Well. Not so. We sat quite near the counter in Finc and while waiting for our order I caught a whiff of hot date. At that point I said to the Mister that that didn't bode well – microwaving a scone was just not right. And not how Nikau does it – they warm using an oven. When I got the scone it was scalding hot! Just scorching. Bad. Bad. BAD. I cut it in half and let it cool for a few minutes – even when the stodgy dough (yes dough – yes stodgy (told you it was a bad idea to microwave it)) was cool the dates had retained their heat – burnt my mouth. And actually they had a kind of burnt sugar taste that lingered – way too overheated. Couldn't eat it all and practically left Finc in tears I was so disappointed.
Now that's here's date scone smile if ever I saw one.