Over the last couple of months the building at the uinversity that's being built up in front of the house with the orange roof is beginning to look like a real building. Glass panels are going up on the front of it and we can no longer see the house.
We decided to go on a walk up through the university today to see if we could find it. The building is not as high as it seems once you get up there, it's near the rec centre part of the university but it looks deep going back towards Kelburn Parade. We took in the view back over the city from up there. Didn't realise how big that apartment building on Taranaki Street is going to be but it's blue shroud certainly dominates the view at the moment.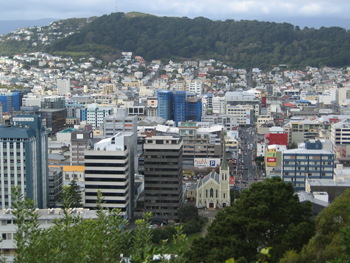 Walked back down Devon Street into Aro Valley and down Aro Street. I'd forgotten how steep and curly Devon Street was and how shabby some of the student flats are.