Took a trip out to Lower Hutt because that's where you have to go to find vacuum cleaner stores. In the past we've just gone to some kind of electronics or appliance superstore and helped ourselves (because those kind of stores never have staff that know the details about their stock) to one based on colour and whether or not the vacuum needed bags, because we always seem to end up with one that has really specific bags that we can never get any more of from the supermarket or the store where we originally bought the vacuum from because by the time we get around to it they've stopped making that brand!
Anyway. Going to an actual vacuum cleaner store means that even on a Saturday afternoon you get a girl who knows her stuff. I mean really knows. Asks about pet hair, floor surfaces, size of dwelling, willingness to clean filters, price range, who does the vacuuming etc etc and then demonstrates a range on carpet and tiled flooring including sucking up various items from pots of sand and wool fluff they have on hand, and lets The Mister have a go (he does the vacuuming).
So we've come away with a well-known brand, in our price range, that has bags (that you can even get from the supermarket) because we're not inclined to clean the filter (and who knew you had to do that on a bagless one every week otherwise they blow up after a year or so, well now we do and if we'd had someone to help us in the aforementioned electronics store we might've made a different choice) , has a great floor foot that is good for cleaning stairs and doesn't require all manner of attachments for different surfaces.
I give you the Hoover Tranquility: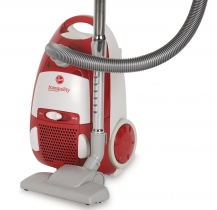 So snaps to Godfrey's and the very helpful Saturday Girl. And BEST of all, we just left our old vacuum cleaner and all its bits there to be disposed of. That was a plus on already great service – like getting rid of a Christmas tree from an apartment, broken appliances present similar challenges!