I was planning on posting this from Dulles International Airport in Washington waiting for the flight to LA – I wrote it all out but the internet connection we had wouldn't let me upload. Anyway, here's what I wrote.
It's all over 🙁 Our lovely Washington Christmas holiday. It was great! Catching up with family was really special and Washington is a pretty cool place.


Our last rainy Sunday we breakfasted at a local cafe and finally had a decent coffee out. They had small 8oz cups (standard by our size) on the La Mazzoco coffee machine (a very good sign) so we asked if we could get a latte in those. No problem – apparently called a 'cortado' thought – pretty strong. But good to wash the thick waffle and maple syrup down with.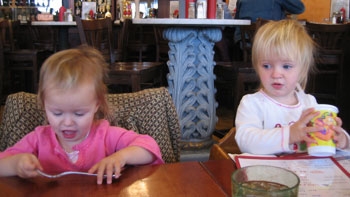 Took a quick look at the Capitol and wandered around the Natural History Museum. Those dinosaur bones sure are impressive. Also saw the BIG Hope diamond.


Today our last morning stroll was locally – we wandered up to the Washington Cathedral in the glorious sun. It's really massive and celebrating 100 years. Quite a bit younger that cathedrals we've seen in Europe!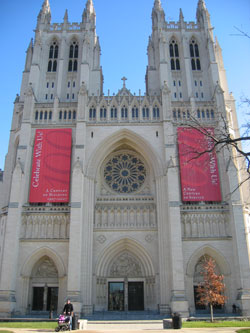 Have had a bit of a think about all the things we've done here, I was surprised that the population is not as large as I thought (about 550,000) and wondered what equivalents we'd have to show people that came to stay with us in Wellington (and which of those we've done ourselves).
While in Washington we saw:


Jefferson Memorial

Zoo (free)

Lincoln Memorial

Vietnam Veterans Memorial

Washington Monument

White House (free (to walk around the outside))

Capitol

Georgetown

FBI headquarters

Smithsonian museums – Air & Space and Natural History (both free)

Pentagon shopping mall
In Wellington we could offer:


Parliament (free?) – not done it

Museum of New Zealand (Te Papa) (pay for some exhibits) – done most of it

Botanical Gardens – yep, done it

Zoo (pay) – not for years

Observatory (pay) – not done it, always meant to

Massey Memorial – done it

Dowse Art Gallery – nope

City Gallery – done it a couple of times

Downstage for a show – done it once I think, years ago

Cable Car (about $2 each way) – yep

Coffee Supreme Factory – no but so want to

City to Sea Museum (free) – done it

Westfield shopping mall Lower Hutt?! – aahhhhh (<whisper>yes</whisper>)
Not sure the list compares!