Had various coffee, juice, rest stops around town today and saw many more costumes, and some of the same people we saw yesterday. Some we saw today were:
ballerinas (guys actually)
babies
the Bucket Fountain (iconic Wellington fountain in Cuba St)
Hari Krishnas
guys in pink winter pajamas
guys in blue nighties
Hooters girls (guys actually)
Thomas the Tank Engine & friends
Bravehearts
vikings
The Jokers (as in Heath Ledger's Joker)
air hostesses
patients & nurses
Olympic swimmer
And here are a few snaps I managed to get: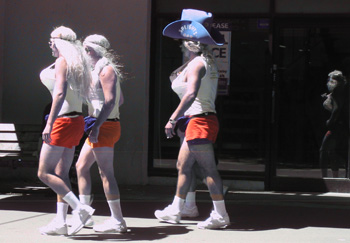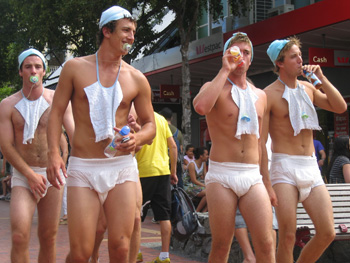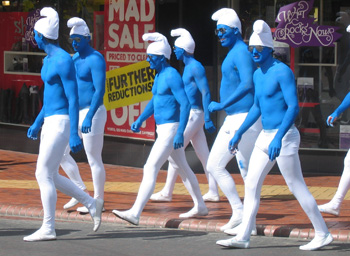 Oh, and a really bizzare thing happened at Fuel while we were watching people go by. I was chatting away to the barista about some of the costumes we'd seen, we weren't singling out any orange ones and I wasn't waring any (visible) orange (other than my hand bag) and a guy that had arrived and was waiting for his order looked straight at me and said "Did you see the guy that was a carrot? Wasn't he great? Oh, and those guys dressed up as orange traffic cones." Ummmm, do you know me? Out of all the costumes it seemed pretty freaky that he chose those to ask me about.