Yesterday we braved the freezing south-easterly to go out and do a couple of Wellington things that you don't always think of when you live here but are pretty great and impressive to visitors. Parents aren't used to the vicious cold but they do like a long walk so off we went in the direction of the Botanical Gardens.
We walked through town and rode up the Cable Car (the ticket bit is totally new and modern since I was last there with electronic gates and glass and shiny tiles).
The Mister got hold of a map and with his Father-in-law in tow took charge of said map for extra man points and guided us across the gardens. We started off on the main path, clearly marked even without the map.
But soon went off-road to show we could cope with the outdoors. Real bush in the middle of Wellington.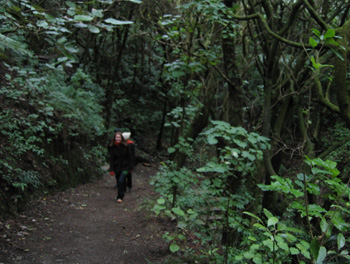 And eventually arrived back at caffeine-filled civilization. As Father said, only the Mister could beat his way through the wilderness and come out in a clearing to find a Supreme cafe. It was the cafe in the begonia house near the rose garden, 'Picnic'. I was unimpressed last time I was there many many years ago as it was hot and steamy with bad smells, limp sandwiches and terrible coffee. Now serving Supreme, home baking, counter food and a reasonable menu it'll be a good spot to remember for other visitors or for ourselves if we feel like the great outdoors one weekend! I *think* they might do picnic baskets in the summer too which would be great. On a calm day!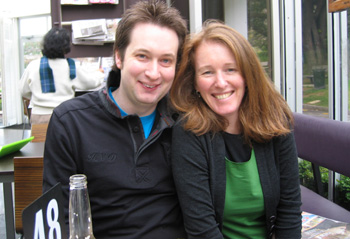 So all smiley, filled with coffee and cake I was fairly amenable to the next leg of our journey, back down through the gardens to the start of The Terrace and down to the waterfront to, at Mother's insistence, a museum. It was the Museum of City and Sea that we've not been to (not really being into museums) but it was free and a nice break from the wind and not too bad a wander for 45 minutes. The only disturbing thing about it was a real cat that had been stuffed and sat up on a pile of sacks in a reenactment of a wharf scene from yesteryear.
And to finish off the day we walked on to the movies, then back home to change, then back down to Capitol before it started raining for a lovely dinner with all the parents.