Man, it's been a real Susie-Homemaker weekend! Today after going into the office all morning I spent the afternoon baking and 'gardening'!
Made the first batch of Christmas mince pies for this year. I didn't make fruit mince earlier in October as I have 2 jars left from last year – I got Mother to sniff it when they were here in October to make sure it was still OK and her verdict was good … mind you the amount of brandy I 'whoops' when measuring (Christmas baking or tiramisu!) is probably enough to ferment anything!
Then out into the increasing wind on the balcony to plant this year's basil. Good stiff breeze to blow away any nasties in the potting mix though.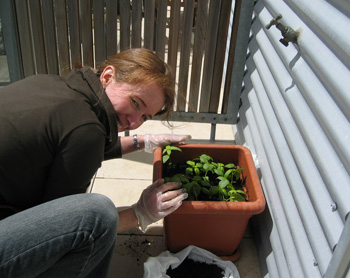 However since planting it about 3 hours ago I've watched out the window in horror as Wellington delivered stronger and stronger wind (gusting up to 74km/hr according to wunderground.com) battering around the poor tiny plants! Oh well, they've got to get used to it!!